CLEVELAND TRIATHLON NEWS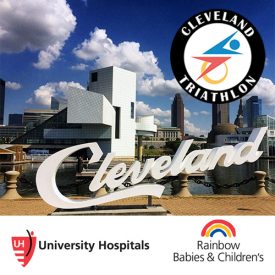 Cleveland Triathlon Announces University Hospitals Rainbow Babies & Children's as the Official Charity for the 32nd Annual Event
Cleveland, OH — Pacific Sports and University Hospitals are proud to announce the extension of their existing relationship on the most decorated triathlon in history. University Hospitals Rainbow Babies & Children's (UH Rainbow) will become the official charity for the Cleveland Triathlon, and the event's participants, sponsors, and stakeholders will actively be involved in fundraising for UH Rainbow. Volunteer and community support will also be a component of the relationship, as will the new finish line festival located at Voinovich Park in North Coast Harbor.

READ COMPLETE ARTICLE ON ENDURANCESPORTSWIRE.COM
---
2018 North Coast Harbor Ice Fest
Pacific Sports and the Cleveland Triathlon were proud to be sponsors of the 2018 North Coast Harbor Ice Fest yesterday in Cleveland. Everyone involved braved the very cold and snowy conditions to put together a really fun event, and we were happy to take part once again this year. Take a look at this brief video of the Cleveland Triathlon sculpture and the very cold weather conditions at North Coast Harbor:
2018 North Coast Harbor Ice Fest from Pacific Sports on Vimeo.
---
13-year-old boy with cerebral palsy reaches a milestone at the 31st Annual Cleveland Triathlon
CLEVELAND - A Cleveland family reached a milestone today in their journey with cerebral palsy. Matt and Diane Cox were holding back tears as they saw their son, 13-year-old Ben Cox, walk over the finish line at the 31st Annual Cleveland Triathlon.
Ben walked a mile and a half, a feat he overcame against all odds. "This is the first time that he's walked here on his own. We've done a shorter thing with him but this is the longest he's ever gone," his mother told News 5.
---
Cleveland Triathlon defending champ riding wave of success
CLEVELAND, Ohio -- Nick Glavac's formula to repeat as the Cleveland Triathlon's Olympic Division champion is pretty simple.

"I don't think I'll do bad this Sunday. If I do well, it will be based on my biking," said Glavac, who not only won last year's Olympic Division title, but was second in 2015.

"I'm hoping my bike fitness will carry me through this race."

Glavac, 30, is a former runner at Mentor High School and Notre Dame College. His victory a year ago was keyed by a biking -- or cycling -- time of one hour and 55.3 seconds, more than six minutes better than the next best cycling time.
READ COMPLETE ARTICLE ON CLEVELAND.COM
---
Pacific Sports Honored For Helping To Raise Over $1 Million
March 28, 2017 - Cleveland, Ohio - The Team UCP Kick Off and Celebration was held at the Great Lakes Science Center this past Thursday, March 23. United Cerebral Palsy of Greater Cleveland honored Pacific Sports and The Cleveland Triathlon with a special award celebrating an incredible partnership that has spanned a decade and raised over $1 Million in support of UCP of Greater Cleveland.
As the official charity of the Cleveland Triathlon, UCP has worked closely with Pacific Sports over the years in utilizing this wonderful event in the City of Cleveland as a tool to raise funds, bring awareness and bring joy to children and adults with disabilities.
---
EXCITING NEWS FOR 2017:
We're very pleased to announce that Pacific Sports has just inked a 2 year extension for University Hospitals to be the official medical sponsor of the Cleveland Triathlon through 2018. In addition, they will once again host our race Expo at the Ahuja Medical Center as well as the ever popular Pasta Luncheon at the same location.
University Hospitals, is the second largest employer in Northeast Ohio with 25,000 employees, serves the needs of patients through an integrated network of 15 hospitals, 28 outpatient health centers and primary care physician offices in 15 counties. At the core of their $3.5 billion health system is University Hospitals Case Medical Center, ranked among America's 50 best hospitals by U.S. News & World Report in all 12 methodology-ranked specialties.